Blended Paediatric First Aid Course – Suitable for those working with younger children.

Delivery Technique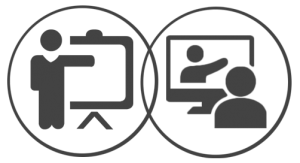 A 12-hour EYFS compliant Paediatric First Aid course comprises of an online theory session followed by a full day practical session at your setting, saving you time and giving you the comfort of learning at your own pace.
Benefits
Saves you time.
Your staff receive learning resources to refer to BEFORE their training event.
All the benefits of a two-day training condensed into a SINGLE day session.
Great for busy teachers and early years staff plus they can learn at their own time.
Aims & Objectives
The aims and objectives of the 12 Hour Paediatric First Aid course are to equip all attendees working within childcare with a sound knowledge and understanding of adult, child and baby first aid procedures. All attendees will also be able to recognise childhood medical conditions and carry out the correct emergency treatment required until medical professionals arrive to assist.
General Information
Maximum of 16 attendees per instructor
Course Duration
12 Hours – 6-hour online learning followed by a 6-hour practical session with our trainer at your setting.
Course Assessment
This course is subject to ongoing assessment by the instructor throughout the course. There is a multiple choice theory assessment along with a short practical assessment on the final session of the training. All assessments are carried out in a low stress environment by the instructor leading the course.
Course Certification
All successful attendees will be awarded a certificate which meets all the requirements laid down by Sure Start, OFSTED, NCMA and EYFS. This certificate is valid for three years.
What do I need to host this course on site?
A room that will comfortably seat the amount of attendees and allow for floor practice for the duration of the course
Paediatric First Aid Course Content
Introduction and Course Administration
First Aid in the Childcare Environment
Primary Assessment
CPR, Adult, Child, Baby
Choking
Asthma
Allergies and Anaphylactic Shock
Wounds and Bleeding
Electric Shock
Burns and Scalds
Poisoning
Epilepsy & Febrile Convulsions
Diabetes
Conditions of Heat and Cold
Meningitis
Sickle Cell Anaemia
Questions and Answers
Assessments
Course Closure and Evaluation